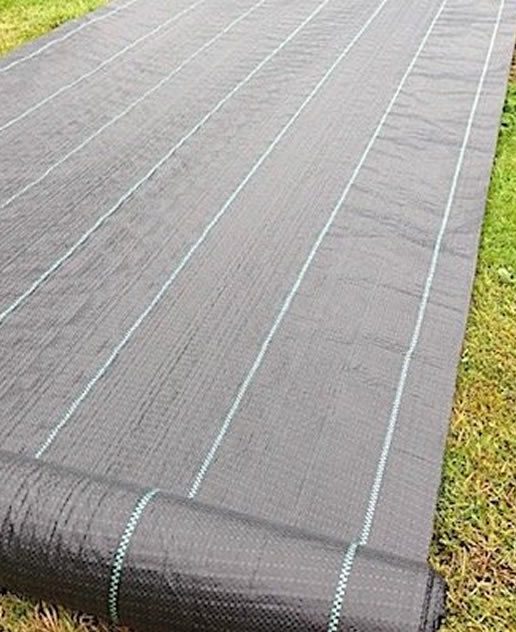 Polypropylene Woven Agrotextiles (agricultural geotextiles) are increasingly used to protect crops from weeds. We produce flat woven Agrotextiles with widths ranging from 40 to 525 cm. The standard roll length is 100 running metres and the maximum is 1000 running metres.
At the request of our customers, we can produce 70 g/m² thick Agrotextiles made of round-woven ("sleeve") fabrics and 90-200 g/m² woven on flat SULZER looms.
All our woven Agrotextiles feature a UV stabilizer, which prolongs the lifespan of fabrics. We can also produce "coloured" textiles. In such a product, a black tape of warp is interlaced with a colored weft.
The most popular colours are green and brown. Thanks to production on SULZER looms, the textiles have markers in a 15×15 cm square (green as standard).
Our new plants will ultimately process 2,000 tonnes of PP per month. As of today, we have 55 looms, 1 type extrusion line, 1 warping machine and 3 rewinders, and we aim to have 150 flat looms (SULZER), 3 extruders, 2 warping machines and 4 rewinders.
Flat fabrics offer the possibility of producing textiles with markers in a 15×15 cm to 25×25 cm square.
The advantages of using polypropylene woven Agrotextiles in agriculture or horticulture are:
– Protection against weed growth, reducing the need to use herbicides;
– Retention of water in the soil;
– Maintaining higher soil temperature – improved vegetation of cultivated plants.
In addition to preventing the soil from drying out, woven Agrotextiles also allow precipitation water to seep through.
On request, we can pack woven Agrotextiles in commercial packaging (e.g. 20 m²) with a label in accordance with the customer's order, logo, and text in any language – provided by the customer).
We only carry out full container orders.